About The Fund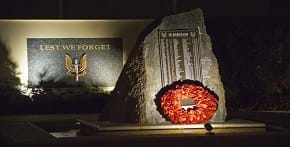 The Special Air Service Resources Fund was established in March 2012 to act as the umbrella fundraising body for the three Special Air Service Resources Trusts.
All funds raised through donations or functions are held by the Fund for distribution to the three Trusts as needed.
The Fund provides peace of mind to members serving in the Australian Special Air Service Regiment. They rest assured in the knowledge that they and their families will be looked after in the event of death or injury. All members are potential beneficiaries.
Trust 1 was formed following the Blackhawk helicopter tragedy on 12 June 1996 during a training exercise near Townsville, North Queensland that claimed 18 lives and rendered one soldier paraplegic. Consequently 11 children were left without fathers ranging in age from 2 to 15 years.
Since the Blackhawk tragedy there have been a further nine deaths in service leaving 9 children fatherless.
For more information on the support provided by Trust 1 - click here.
Trust 2 was established in November 2010 and provides relief to current and former members of the Regiment and their families who do not qualify as beneficiaries under the primary trust but are experiencing financial hardship or difficulty as a result of any disability attributable to their service with the Regiment. For more information on Trust 2 - click here.
Trust 3 was established in May 2011 to provide welfare and respite to all serving members of the SAS Regiment and their families. For more information on Trust 3 - click here.
---
Who is the Special Air Service Regiment (SASR)
Australia's Special Air Service Regiment has a unique and hazardous role within the Australian Defence Force.
Operating under the motto 'Who Dares Wins' the Special Air Service Regiment (SASR) is a direct command unit of the Special Operations Command with a demanding role.
SASR personnel are specially selected and highly trained to act with discretion and discipline in situations that may have national and strategic consequences. Personnel are required to work in small teams for extended periods, often without external support.
SASR can trace its beginnings back to the Australian Z Special Unit and Independent Commando Companies that fought during World War II. On 25 July 1957, the 1st Special Air Service Company, Royal Australian Infantry, was raised at Campbell Barracks in Western Australia. In 1964, 1st Special Air Service Company was expanded to become the Special Air Service Regiment.
SASR is tasked to provide special operations capabilities in support of Australia's national interests. This includes providing unique capabilities to support sensitive strategic operations, special recovery operations, training assistance, special reconnaissance and precision strike and direct action. Additionally, other specialised elements of the Australian Defence Force, such as Naval and Air assets support SAS operations and training on a regular basis.