2017 Chairman's Sundowner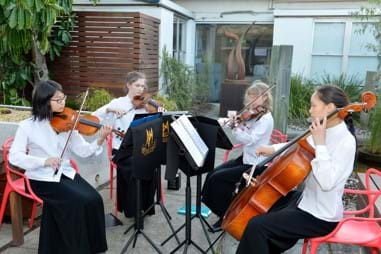 The annual Chairman's Sundowner was held in the Minderoo Courtyard at Sunset. Guests were entertained by the MLC Dolce Quartet and enjoyed refreshments through the evening.
This event is an opportunity for the Chairman to thank our supporters, sponsors, volunteers, donors, Trustees and Committee members for their support throughout the year. Without this support, the Fund would not be able to provide the care and assistance it does to our beneficiaries.
Mr Rob Druitt welcomed guests and introduced the Chairman, Mr Greg Solomon who formally thanked our many supporters for their assistance throughout the year. Once again, Solomon Brothers and Ernst & Young provided the Fund with pro bono advise and support – something which they have done since the Fund's inception over 20 years ago. The Fund recognised the outstanding years of service Mr Greg Meyerowitz has provided and wishes him well in his retirement.
We are grateful to have a number of scholarships with MLC, Scotch and Trinity College as well as backing for our beneficiaries from St Mary's, Aquinas and St Hilda's. The Wanderers Education Program has been able to expand and is successful due to the ongoing generosity of donors. Ms Marion Smyth is instrumental in providing invaluable counselling and assessment of beneficiaries and Mr Nick Brasington has made an enormous contribution to fundraising and the scholarship programme. The Trustees and Committees put in an extraordinary amount of time and effort to support the three Trusts and their tireless work is greatly valued.
To all the supporters and friends of the Fund - thank you for your support and we look forward to welcoming you to the Chairman's Sundowner 2018.